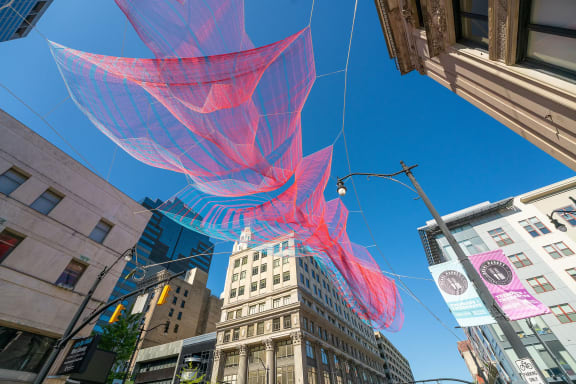 About
Welcome to Current, the stunning, ephemeral, sky-high sculpture that will inspire wonder and imagination for Columbus residents and visitors alike. Stretching an impressive 229 feet across Gay Street, this masterpiece represents the largest private contribution to public art in the history of Columbus.
Created by world-renowned sculptor Janet Echelman, Current is a true marvel of engineering and artistry, comprising of 78 miles of twine intricately woven into over 500,000 knots. As it dances gracefully in the wind, this awe-inspiring work of art will become an emblem of the city, a symbol of its culture and innovation. Walking beneath this massive artwork, youll know youve arrived at the nexus of culture in Columbus.
Location
Suspended in the air above Gay and High, Current will be a grand bookend for the burgeoning Gay Street District. Anchored to the east by the Columbus Museum of Art and Columbus College for Art and Design, the elevation of this work will allow it to be seen from the convention center, serving as a beacon and a beckon for the Columbus community.
This District is home to multiple museums and galleries, with more on the way. This world-class public artwork will anchor this emerging District, living in the heart as it continues to grow.
You can learn more about the restaurants, arts and experiences in the neighborhood please visit https://downtowncolumbus.com/news-article/gaystreet/.
About the Artist
Janet Echelman is a world-renowned artist with a track record of creating distinct artworks at a colossal scale to create a unique sense of place no Stranger to Columbus, the artist was inspired by the city's history and sense of cooperation known as the Columbus way. As Current becomes embedded into the fabric of downtown it will serve as a starting point for engaging a diverse intersection of our community. To achieve this a working group of people have been created with varying backgrounds who will have further define, program, and activate a growing arts and culture district downtown. Janet Echelman has created more than 50 installations that have become focal points for urban life on five continents, from Singapore, Sydney, Shanghai, and Santiago to New York and London. Her permanent art commissions draw millions of annual visitors in California, Washington, Oregon, Arizona, North Carolina, Florida, British Columbia (Canada), and Oporto (Portugal)
To learn more about Current please visit https://www.columbusmuseum.org/current/
Content courtesy of the Columbus Museum of Art website
Testimonials
The Citizens is absolutely beautiful! There's a bar in the lobby, a restaurant in the basement, a nice sized gym and a movie room!

- Krysta, Google Review
he lobby is BEAUTIFUL, top notch, arguably the most beautiful building lobby in all of Columbus, which also houses a fantastic bar! The workout room is beautiful.. rooftop is a great perk too.

- Christina , Google Review
What a cool building to go residential. The property management company really did a great job restoring the building

- Michael, Google Review
I love living here and would recommend it to anyone wanting a fun, downtown living experience!

- Christina, Google Review
We love living here at The Citizens. The rooftop patio is beautiful and is like "having a backyard".

- Steve, Google Review
The people who work here are really the best part of the whole experience. All staff members are friendly and like family. Thanks for making us feel at home.

- Steve, Google Review